from Store to your Fridge or Freezer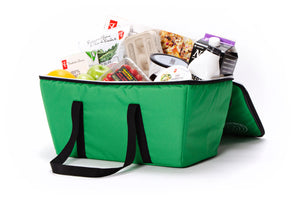 It's BIG!
You can get a lot of shopping in here - it's got a 30 litre capacity.  That's equivalent to more than 36 pop cans, or the contents of 3 to 4 plastic bags. If that's not enough, you can always get a second Shopper!                                                                      
Help reduce global warming!
Grocery stores are eliminating plastic bags. The Kool Bag™ Shopper is the ideal replacement to carry fresh and frozen produce.
Imagine the difference you can make to our environment!
Fits neatly in the PC® Green Box®
The Kool Bag™ Shopper is tailor made to fit inside the PC® Green Box® saving space at home or in the trunk of your car.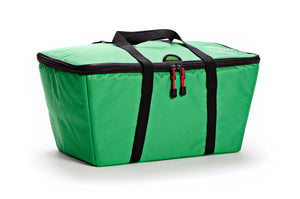 Built to last
The Kool Bag™ Shopper is constructed to carry heavy loads.  Specially selected hardwearing fabrics.  The handles are stitched into the base to provide extra carrying strength.
Perfect Shopping Companion
Pack your purchases directly into The Kool Bag™ Shopper at the checkout, and make sure your shopping gets home in good shape.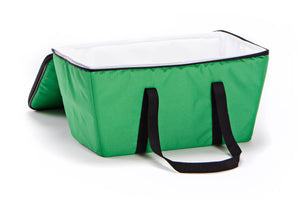 Easy to clean
The Kool Bag™ Shopper is made in a tough polyester fabric exterior and a smooth polyethylene fabric interior lining with welded seams.  Wipe clean with a smooth cloth and warm soapy water.  Let it dry before putting away.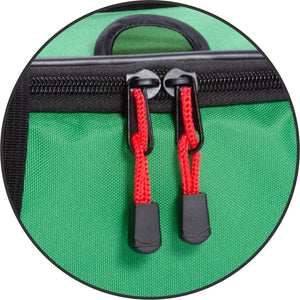 Double zipper puller
The high visibility double zipper pulls makes it easy to open and close.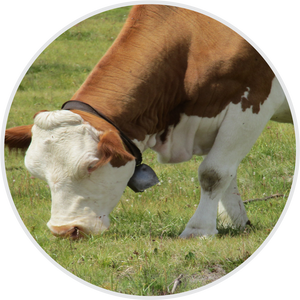 All good farmers recommend it!
Food safety is vital to the health of your family.  Farmers and grocery stores take great care to make sure that you get the freshest products from field to store.  But once their products have left the store, that chain is broken.  The Kool Bag™ Shopper helps your shopping stay fresh all the way to your fridge or freezer.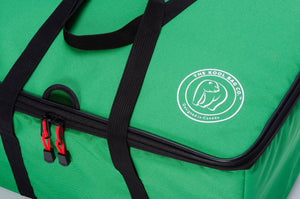 Long lasting insulation
Design features to keep the cool air in and warm air out.  Coated outer fabric, closed cell foam, welded lining seams and zipper lip rims, provide optimal insulation. 
PC® and Green Box® are trademarks of Loblaws Inc.
10% of profits donated to the Ottawa Food Bank
Every year, a minimum of 10% of profits earned from sales of The Kool Bag™ Shopper are donated to the Ottawa Food Bank.  It's our way of contributing to our community and supporting a very worthy organization.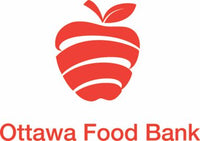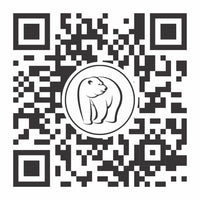 Please tell Friends & Family!
If you like The Kool Bag™ Shopper, please tell everyone!  It also makes a great gift at any time of year! 
Just take a picture of the QR code with your phone - it'll take you straight to the store.
Thank You!
Buy Now